Salespeople for Edwards Company Earn
$5.50
Salespeople for Edwards Company Earn
(TCO 1) The salespeople for The Edwards Company earn a commission on top of their regular…
Description
Salespeople for Edwards Company Earn
Salespeople for Edwards Company Earn
A+ BIS 155 Final Exam
(TCO 1) The salespeople for The Edwards Company earn a commission on top of their regular pay if they sell more than $5,000 in a week. You have started a worksheet shown below to track sales each week and calculate the commission, if any, earned for that week. Two rows of sample data have been entered to test formulas.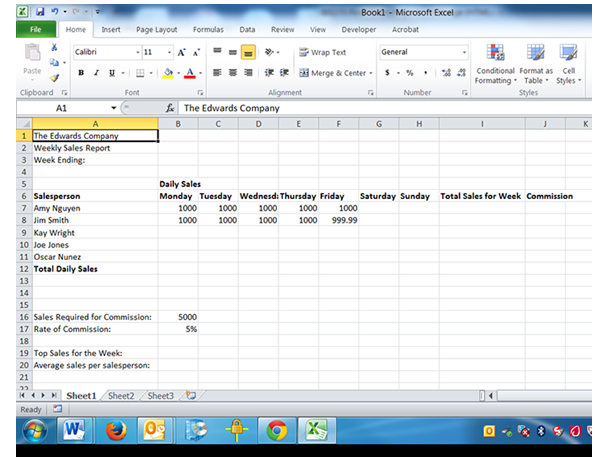 Part 1: Write the formulas needed in Cells I7 and J7 to total sales and calculate commission, if any, earned for the week. Use cell references in your formulas, and write them so that they may be copied to Cells I8 through I11 and J8 through J11.
I7 is the total sales of the week ….
Part 2: Write the formula needed in Cell B19 to show the amount of the highest sales for the week, and the formula needed in B20 to show the average sales by salesperson for the week.
To find the maximum sales, the …
Part 3: Describe the formatting needed to give the worksheet a professional appearance.
Professional appearance makes it easy for the data to be understood and…
Part 4: You know others in your company may have questions about the worksheet, so you want to be sure they know who created it and the purpose of the worksheet. Describe the best way to incorporate this information into your workbook.
The information on the purpose and the creator of a spreadsheet should be…